15.09.2007/ Australian veteran Stuart O'Grady (CSC# crashed during this years Tour de France. The winner of this years edition of Paris-Roubaix is back on his bike and spoke with the CSC team website about his injuries and his goals for the next season.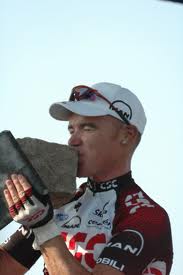 O'Grady won this years edition of Paris-Roubaix…#picture: Cyclingheroes)
In eight stage from Le-Grand-Bornand to Tignes O'Grady was making his way towards his teammates with a fresh supply of water, when he hit a wooden pole on the side of the road and crashed. He punctured one lung and broke his collarbone, shoulder blade, five ribs and part of his spine.
But not long after the accident the popular and very sympathetic Australian made it very clear that it hadn't changed his positive attitude towards life. He immediately chose to look on the bright side.
"I might've been in a wheel chair right now or even worse. I'm just happy to be feeling as good as I am right now. And I really am feeling great. My crash is two months ago now and within six weeks I was able to get back on my bike – that's pretty fast considering the seriousness of the accident," explains Stuart O'Grady on the CSC team website.
"You've gotta try and look on the positive side of things in situations like this and I've gotten some positive experiences out of this. I would really like to thank all those people, who have been there for me through this whole ordeal – everyone from my friends and family to the competent people at the hospital, who've been taking care of me. And I got the opportunity to be present, when my daughter was born and be there for her at the beginning, which otherwise would've been almost impossible in this business," continues the Australian.
As part of his recovery O'Grady has just been to Denmark for a two-day visit to be treated by one of the team's Body SDS therapists Kalle Flebbe.
"This Friday I got on my bike for the first time since Kalle's treatment and I can feel a significant improvement. I've lost quite a bit of strength in my upper body after the crash, so Kalle's treatment is vital. I felt stronger right away. I've been increasing the distances slowly but surely and now I'm feeling well enough to pick up my training, where I left off before the accident happened."
And it is soon time to start looking at goals for the next season and the first ones are on home ground.
"After not having done any races since July Tour Down Under is a major goal for me and I also have a dream of winning the Australian Championship in January. It would be a great honor for me to wear the National Jersey on Team CSC. This long break has provided me with the opportunity to build up my form slowly without too much stress and I think that's good for me in my present situation. So I'm going to be extremely motivated for January," predicts O'Grady.
"I'm going to aim for the classics again after Tour Down Under, so Milano-San Remo and Paris-Roubaix will also be big goals for me."